Slaves to Sin
"For God has imprisoned all in disobedience so that he may be merciful to all." (Romans 11:32)
We all sin, therefore we are all slaves to sin.
Jesus answered them, "Very truly, I tell you, everyone who commits sin is a slave to sin. (John 8:34)
Knowing that I'm a slave to sin gives me good reason to be patient with others. Because I'm weak I should be gentle with those whose sins are obvious to me. They may be prone to different kinds of sin than the kinds I'm prone to, but just like them, I am a sinner. (If you know that a man is a slave to another man, will you treat him cruelly? Or will your heart be more inclined to go out to him because you know he is a victim?)
But if we are slaves to sin, isn't trying to do what Jesus asks us to do simply a waste of time? No. Knowing that I'm weak makes me more patient with the weak. And knowing that I'm weak causes me to pray and ask God for help.1 I do not want to be a slave to sin. I want to be good, strong, and free. God loves me and wants to make me what a man ought to be. Though I will always be a slave to sin on this earth (at least to some degree), with God's help, I can begin to overcome sin and become more like Jesus.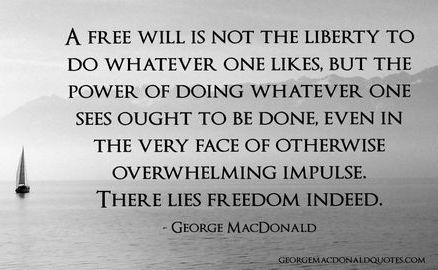 "We know that the law is spiritual; but I am unspiritual, sold as a slave to sin. 15 I do not understand what I do. For what I want to do I do not do, but what I hate I do. 16 And if I do what I do not want to do, I agree that the law is good. 17 As it is, it is no longer I myself who do it, but it is sin living in me. 18 For I know that good itself does not dwell in me, that is, in my sinful nature. For I have the desire to do what is good, but I cannot carry it out. 19 For I do not do the good I want to do, but the evil I do not want to do—this I keep on doing. 20 Now if I do what I do not want to do, it is no longer I who do it, but it is sin living in me that does it." (Rom 7:14-20)
We are helpless against sin. Without God we are lost. But with God, it is a different story. In Romans 7 Paul is telling us what life was like before he started trusting Jesus (as a devout Pharisee he genuinely tried to do what was right). Note how he finishes Romans 7:
"Who will rescue me from this body that is subject to death? 25 Thanks be to God, who delivers me through Jesus Christ our Lord!
So then, I myself in my mind am a slave to God's law, but in my sinful nature a slave to the law of sin." (Rom 7:24b, 25)
He continues:
"Therefore, there is now no condemnation for those who are in Christ Jesus, 2 because through Christ Jesus the law of the Spirit who gives life has set you free from the law of sin and death. 3 For what the law was powerless to do because it was weakened by the flesh, God did by sending his own Son in the likeness of sinful flesh to be a sin offering. And so he condemned sin in the flesh, 4 in order that the righteous requirement of the law might be fully met in us, who do not live according to the flesh but according to the Spirit.
5 Those who live according to the flesh have their minds set on what the flesh desires; but those who live in accordance with the Spirit have their minds set on what the Spirit desires. 6 The mind governed by the flesh is death, but the mind governed by the Spirit is life and peace. 7 The mind governed by the flesh is hostile to God; it does not submit to God's law, nor can it do so. 8 Those who are in the realm of the flesh cannot please God.
9 You, however, are not in the realm of the flesh but are in the realm of the Spirit, if indeed the Spirit of God lives in you. And if anyone does not have the Spirit of Christ, they do not belong to Christ. 10 But if Christ is in you, then even though your body is subject to death because of sin, the Spirit gives life because of righteousness. 11 And if the Spirit of him who raised Jesus from the dead is living in you, he who raised Christ from the dead will also give life to your mortal bodies because of his Spirit who lives in you. 12 Therefore, brothers and sisters, we have an obligation—but it is not to the flesh, to live according to it. 13 For if you live according to the flesh, you will die; but if by the Spirit you put to death the misdeeds of the body, you will live." (Rom 8:1-13)
If you view sin as a separate entity to yourself, it will help you to see yourself as a victim, and then turn to Christ for help. We are helpless before sin. There is no overcoming it without Christ (at best, there is only swapping one sin for another). Only Jesus can set us free. The good news is He is our Saviour and He will save us.*
When we begin to trust Jesus we begin to be right with God, it is then that what the Bible calls atonement (at-one-ment) has been. Christ, wants to save you. And he will start saving you right now, if you start to trust him.*
1. With humility comes wisdom. - Proverbs 11:2
*We have a Saviour who will save us. (Sin and death will be destroyed.) Some have begun to be saved from sin in this life; others will begin to be saved from sin in the next life (see That All Shall Be Saved by David Bentley Hart). This is The Hope of the Gospel. Some will be saved from going to Hell, and some will be saved out of Hell. But in the end, all will be saved. (see Eternal Life).
But Hell is not a place you want to go. No one will be able to stand before God's wrath. His will will be done. God is not weak.
"The selfish person has a kind of strength through finding joy in the things they like to do. The godly person finds joy through doing God's will; there is no greater strength, because no one can take that from them."